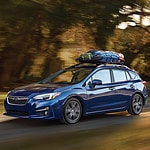 The 2020 Subaru Impreza is a standout kind of vehicle thanks to its diversity. This compact car has a large following as well as a large fanbase. This vehicle offers good interior space even though its small. On the other hand, consumers can choose from a hatchback or sedan trim.
The 2020 Subaru Impreza offers various trim levels, including the Standard, Limited, Sport and Premium. Ultrasonic sensors are embedded into the system for safety purposes. These sensors will scan the roadways for potential hazards. This includes Rear Cross-Traffic Alert, Blind Spot Detection, and a rearview camera. The automobile's frame is constructed from high-strength steel, which helps to deliver a more stable ride. Smartphone pairing is made simple via Apple CarPlay and Android Auto. The eight-inch touchscreen display hosts numerous apps for messages, audiobooks, and podcasts.
If you want a thrilling ride, then visit our location for a test drive.